Welcome Message
Allied Academies cordially welcomes all the participants to attend the Dentistry and Dental Care. It is with incredible joy that we welcome you to go along with us at the Dentistry and Dental Care. We invite all the Dentists, Dental Hygienists, Dental Surgeons, Dental Assistants, Dental Business Assistants, Practice Managers and other Members of the Dental Team. The Allied Academies will be holding the Annual Summit on Dentistry and Dental Care from 25-26 October, 2018 in Tokyo, Japan. This conference has been specifically designed to focus on the modern dentistry and its prevalence in today's world. It also aims to provide educational opportunities as well as world-class scientific content delivered by quality keynote speakers, with plenary sessions, symposiums, hands-on workshops, etc. It also provides international networking and opportunities for collaborations with worldwide companies and industries.





Target Audience:
Oral Hygienists & Therapists

Dental and Oral Health Researchers, Faculty and Students

Dental Wholesalers, Dealers, and Distributors

Manufacturing Medical Devices Companies
Scientific Session
Session 1: Oral Implantology


It provides valuable information to general dentists, oral surgeons, prosthodontists, periodontists, doctors, clinicians, laboratory owners and technicians, and educators. Implant basics, prosthetics, pharmaceuticals, latest research in the implantology, implant surgery, and advanced implant procedure. Dental implants should be considered as an option for replacing failing or missing teeth.




Session 2: Oral and Maxillofacial Pathology





Oral and maxillofacial pathology is the specialty of dentistry and pathology that deals with the nature, identification of diseases affecting the oral and maxillofacial regions. It is a science that investigates the causes and effects of these diseases. The practice of oral pathology includes research, diagnosis of diseases using clinical, radiographic, microscopic, biochemical, or other examinations of patients.





· Dental implants





· Corrective jaw surgery





· Oral and facial injuries


Oral Biology is a diverse scientific area that encompassing the disciplines of molecular biology and genetics, microbiology and immunology, genomics, biochemistry, biophysics, pharmacology, physiology, and cancer biology. Because of the unique combination of tissues and functions of the mouth and craniofacial complex, the field of oral biology blends fundamental scientific disciplines in unique and fascinating ways to meet the challenges of developing new and highly effective ways to manage, cure or prevent diseases and developmental defect.

· Inflammatory Diseases





· Aphthous Stomatitis





· Herpes Labialis





· Oral Candidiasis





· Leukoplakias





· Non-neoplastic Growths

Session 6: Pediatric Dentistry

Pediatric dentistry is the branch of dentistry dealing with children from birth through adolescence. Pediatric dentists have the experience and abilities to direct to a child's teeth, gums, and mouth all through the distinctive periods of youth.





· Eating habits and dental problems





· Prevention the tooth decay





· Factors influencing the tooth decay in children





· Management and treatment





Session 7: Orthodontics





Orthodontics is the branch of dentistry that corrects teeth and jaws that are positioned improperly. Crooked teeth and teeth that do not fit together correctly are harder to keep clean, are at risk of being lost early due to tooth decay and periodontal disease, and cause extra stress on the chewing muscles that can lead to headaches, TMJ syndrome, and neck, shoulder and back pain. Teeth that are crooked or not in the right place can also detract from one's appearance. The benefits of orthodontic treatment include a healthier mouth, a more pleasing appearance, and teeth that are more likely to last a lifetime. A specialist in this field is called an orthodontist. Orthodontists receive two or more years of education beyond their four years in dental school in an ADA-approved orthodontic training program. orthodontics and dentofacial orthodontics, is a specialty field of dentistry that deals primarily with malpositioned teeth and the jaws: their diagnosis, prevention, and correction. An orthodontist is a specialist who has undergone special training in a dental school or college after they have graduated in dentistry.





· Reasons for braces





· Management of Ortho problems





· Common misalignment problems

Session 8: Endodontics





Endodontics is the branch of dentistry concerning dental pulp and tissues surrounding the roots of a tooth. "Endo" is the Greek word for "inside" and "odont" is Greek for "tooth." Endodontic treatment, or root canal treatment, treats the soft pulp tissue inside the tooth. An endodontist is a dentist who specializes in saving teeth. Endodontists become specialists by completing two or more years of advanced training in endodontics following dental school. They perform routine as well as difficult and very complex endodontic procedures, including root canal treatment, endodontic surgery and special procedures to save teeth after traumatic dental injuries. By focusing their practice on specific procedures such a root canal treatment, surgery and trauma, endodontists are experts at managing a wide array of complex endodontic problems efficiently. Advanced technologies and specialized techniques used by endodontists give them a very accurate view of the inside of the tooth and allow them to treat the tooth quickly and comfortably. By saving your tooth, an endodontist can help you keep your smile natural, so you can continue to eat your favorite foods and maintain your overall health. Endodontics encompasses the study and practice of the basic and clinical sciences of the biology of the normal dental pulp and the etiology, diagnosis, prevention, and treatment of diseases and injuries of the dental pulp along with associated periradicular conditions. Endodontics in keeping the endodontists in a physiologically helpful state for the help of oral and fundamental prosperity. Endodontics has evolved tremendously over the past decade and its applications have immensely improved the quality of dental treatment.

· Endodontic Instruments





· A sepsis in Endodontics





· Root Canal System





Session 9: Tooth Anatomy





The tooth is one of the most individual and complex anatomical as well as histological structures in the body. The tissue composition of a tooth is only found within the oral cavity and is limited to the dental structures. Each tooth is paired with the same jaw and the opposing jaws have teeth that are classified within the same category, however they are not grouped according to structure but function. They are seated within the upper and lower alveolar bone in the maxilla and mandible respectively and this exclusive type of joint is known as Gomphosis.





Session 10: Dental Pharmacology





Dental pharmacology is the study of drugs, or pharmaceuticals, typically used in the dental field. The most common types of drugs used by a dentist or dental professional are analgesics, antibiotics, anti-inflammatory drugs, and anaesthetics. Each drug works in a different way to address whatever the dental issue may be.





· Analgesics





· Antibiotics





· Anti-inflammatory drugs





Session 11: Mouth Sores and Infections





There are many different types of mouth sores that can develop around or in the mouth. Some are painful, some are unsightly and some may be a sign of something more serious. If your mouth sore does not go away within 10 days, you should consult your dentist. If you suspect you have an infection, consult your dentist as soon as possible to eliminate complications.





· Dental Caries





· Periodontal Disease





· Herpangina





· Oral Herpes





Session 12: Dental Public Health





Dental Public Health (DPH) is that part of dentistry providing leadership and expertise in population-based dentistry, oral health surveillance, policy development, community-based disease prevention and health promotion, and the maintenance of the dental safety net. DPH and the private practice model of care delivery together bear the responsibility of assuring optimal oral health for all individuals and populations. DPH has been defined in many ways, from "the science and the art of preventing and controlling disease and promoting dental health through organized community efforts" to "a non-clinical specialty of dentistry involved in the assessment of dental health needs and improving the dental health of populations rather than individuals." While these definitions capture some of what DPH does, they fail to completely define the scope of what DPH professionals do and how they fit into the matrix that is today's dental profession. This module is intended to increase awareness of dental public health and how diverse oral health stakeholders contribute to the enhancement of the infrastructure that supports it at the federal, state and local levels.





Session 13: Oroantral Communication





Oro-antral communications and fistulas (OACs & OAFs) are complications frequently encountered by oral and maxillofacial surgeons. Oro-antral communication is an unnatural communication between the oral cavity and the maxillary sinus. These complications occur most commonly during extraction of upper molar and premolar teeth. The major reason is the anatomic proximity or projection of the roots within the maxillary sinus. The Other causes of OAC/OAF include tuberosity fracture, dentoalveolar/periapical infections of molars, implant dislodgement into maxillary sinus, trauma, the presence of maxillary cysts or tumors, osteoradionecrosis, flap necrosis.





· Oroantral fistula





· Diagnosis





· Surgical techniques





Session 14: Forensic Odontology





Forensic dentistry or forensic odontology is the application of dental knowledge to those criminal and civil laws that are enforced by police agencies in a criminal justice system. Forensic dentists are involved in assisting investigative agencies to identify recovered human remains in addition to the identification of whole or fragmented bodies; forensic dentists may also be asked to assist in determining age, race, occupation, previous dental history and socioeconomic status of unidentified human beings. Forensic dentistry is the proper handling, examination, and evaluation of dental evidence, which will be then presented in the interest of justice. The evidence that may be derived from teeth is the age (in children) and identification of the person to whom the teeth belong. This is done using dental records including radiographs, ante-mortem (prior to death) and post-mortem (after death) photographs and DNA. Forensic odontology is derived from Latin, meaning a forum or where legal matters are discussed.





Session 15: Current Trends in Dental Health





The dental practice needs to constantly look at the available option now dentists can offer patient's advanced choices like esthetic dentistry, laser dentistry, implant dentistry and digital dentistry. They continue to change, particularly because of the advances in clinical dentistry, technology, and materials. These changes offer opportunities for both dental practices and patients.

Session 16: Cosmetic Dentistry





Cosmetic dentistry is dentistry aimed at creating a positive change in your teeth and smile. Most people think of tooth whitening or porcelain veneers, but a cosmetic dentist can provide much more. A skilled, experienced cosmetic dentist can help to improve your appearance, smile, even your confidence. There are various techniques and decisions to treat the teeth that are recolored, chipped, twisted or missing. The cosmetic dental professional can reshape your teeth, close spaces, re-build up worn or short teeth or change the length of your teeth. Today's, cosmetic dentistry has continued to evolve to where cosmetic dentists can address functional and patient concerns





Session 17: Green Dentistry.





Green dentistry is a high-tech approach which reduces the environmental impact of dental practices and encompasses a service model for dentistry that supports and maintains wellness. Green dentistry meets the needs of millions of wellness lifestyle patients and helps dental professionals protect planetary and community health, as well as the financial health of their practices.





The Eco-Dentistry Association defines green dentistry as a practice that Reduces Pollution, Saves energy and water.

Session 18: Dental Anesthesia





Dental anesthesia is a field of anesthesia that includes not only local anesthetics but sedation and general anesthesia. The first general anesthetics administered were for dental extractions. General anesthesia for dentistry is not without risk and should not be undertaken as a first-line means of anxiety control. Consideration should always be given to the possibility of local anesthetic techniques with or unconscious sedation. Patients requiring general anesthesia for dental work are frequently children or individuals with learning difficulties. The standards of general anesthesia for dentistry should be the same as those in any other setting. Anesthesia is inherent to involved procedures, whether it's knee surgery or filling an advanced cavity, and when properly administered, it isn't a point of concern.





· Types of anesthesia





· Side effects of anesthesia





Session 19: Prevention of Dental Diseases





Prevention of dental diseases comprises the various procedures used by dentists, dental hygienists, nurses, teachers, researchers and others to develop scientific oral health knowledge and habits. Oral hygiene is very important in keeping the mouth healthy. This prevents dental problems from trying to invade the mouth. Oral diseases brought by viral, bacterial, and fungal infection can originate from the mouth. At more times, poor dental care can lead to oral cancer. If the damage is too much, there may be very difficult to bring it back to its original form. Prevention of dental problems is recommended in order to stop the increasing number of oral diseases. Commonly, some oral complications can be avoided through good oral habits. There are several ways how to take care of the mouth particularly the teeth. Some of these are even the simplest ways and can be done regularly at home. Other intense procedures need professional help to ensure safety and correct techniques. It will be wise to make a routine plan of your dental care activities on a daily basis.

Abstract Submission and Registration
Allied Academies, the largest Open Access Publisher, and scientific events Organizer, publishing more than 400 Open Access journals and organizing more than 300 scientific events per year also offers membership to students. annual summit on Dentistry and Dental Care Committee would like to invite speakers to submit their research for inclusion in the Global Women Health 2018 scientific program.

We warmly invite you to submit your abstract and attend the Annual Summit on Dentistry and Dental Care. Submit your abstract online at Speaker abstract (or) dentistry@alliedmeetings.com

Come Let's Bring a Transformation in the Scientific Society!!

The Young Researchers Forum offers young researchers the possibility to meet and discuss research topics and methodologies, share and develop ideas, learn from each other and gain knowledge from senior researchers.

Young Researcher Sessions are organized at the Annual Summit on Dentistry and Dental Care, to provide a unique platform for Young Researches/Investigators for presenting latest research projects with an in-depth analysis. Allied Academies cordially invites Young Researchers from Universities/Institutes/Industries to present a short oral presentation during the forum. These oral presentations should be of 10 minutes duration in related scientific track followed by 5 minutes question hour. Therefore, presenters are encouraged to give comprehensive and dynamic talks. Applications will be selected based on past research productivity and future promise.
Registration Details
Register here: http://dentistry.alliedacademies.com/registration




Market Analysis
Earlier in 2016, the global market was rated at $3.22 billion USD a year. This includes implants, as well as the tools and instruments used during surgery, and the market is growing at a rate of mid-single digit per year. A closer look at the top dental implant companies will help to identify that why they are so successful in this highly competitive market.

The global oral care market is projected to reach USD 53.97 Billion by 2022 from USD 43.31 Billion in 2017. The major players in the global oral care market are Colgate-Palmolive Company (U.S.), The Procter and Gamble Company (U.S.), GC Corporation (Japan), Koninklijke Philips N.V. (Netherlands), Johnson & Johnson (U.S.), Lion Corporation (Japan), Dr. Fresh LLC. (U.S.), Ivoclar Vivadent AG (Germany), Henkel KgaA (Germany), Jordan AS (Denmark), Panasonic Corporation (Japan), Sunstar Suisse S.A. (Switzerland), Church & Dwight Co., Inc. (U.S.), Kao Corporation (Japan), LG Household & Health Care Ltd. (Japan), Dabur India Ltd. (India), Himalaya (India), Patanjali Ayurved Ltd. (India), Supersmile (U.S.) Ranir, LLC. (U.S.), Young Innovations, Inc. (U.S.), and Ultradent Products, Inc. (U.S.)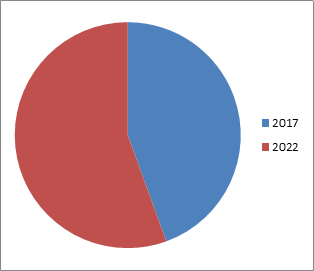 Fig.1: The global oral care market in 2017 and 2022

The global CBCT/Cone beam imaging market is expected to reach USD 801.2 Million by 2021 from USD 494.4 Million in 2016, during the forecast period (2016-2021). Factors such as increasing prevalence of dental disorders, growth in old-age population, growing demand for cosmetic dentistry, and expanding applications of CBCT systems are expected to fuel growth in the CBCT systems market in the coming few years.

The global orthodontic supplies market is expected to reach USD 4.71 Billion by 2021. Factors such as the growing number of patients with malocclusion, jaw diseases, tooth decay/tooth loss, oral cancer and jaw pain; increasing disposable income and expanding middle-class population in developing countries; increasing awareness among consumers about advanced orthodontic treatments; and technological advancements in orthodontic products are driving the growth of the global orthodontic supplies market.

Fig2: global dental imaging market 2014 and 2019